News
2014
Android Application published on Google Play.

Two objectives: upload pictures directly to database, visualize pedigrees in offline mode with a local database.
Go to Google Play...
2013
We added the size of the dogs.
Tools for webmasters: we developped a plugin for WordPress blogs. You can now include pedigrees and virtual mating in pages and articles of your WordPress blog.
You can add FaceBook comments to every dog.
We have a new display of dogs, to have a better visibility of the "family" (ancestor, offspring, litters) and the quality of a reproductor.
Gadget: we have implented the OpenSearch protocol for web browsers. Compatibility: FireFox, Chrome, Safari, IE.
We have re-written the user interface to include an 'autocomplete' mode in every search zone (dog search, kennel search, parents search, etc.).
Classified Ads, November 2011
A new website for English setters: we develop a classified ad website that integrate the pedigree database. Go to Setter-anglais.fr Classified Ads...
Display, May 2011
As large screens are now standard, we plot family trees on four colums instead of three ones. We also improve page layout (offsprings and ascendants list).
Mod for phpBB3 forums, May 2011
A very simple mod to integrate into a post message a complete pedigree or a complete virtual mating page (with pictures and complete data). This completes the webmaster tools, with the Joomla Plugin. phpBB official website...
Percentage of Italian blood, March 2011
For French and Spanish dogs: computation of the percentage of Italian blood. percentage is computed on 8 generations. Funny and astonishing result!
Italian origins in the French livestock, March 2011
The number of entries in the database enables new statistical calculations. We studied the percentage of Italian blood in our dogs.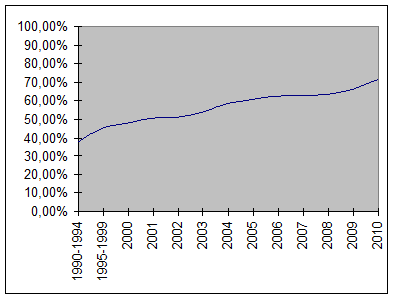 Percentage of Italian blood in dogs produced in France, by year of birth.
Methodology and calculation
The working set ins the setter-anglais.fr database. We keep French livestock that is produced in France. So we start with LOF registred dogs. We eliminate dogs that we identify as pure Italian (imported dogs or French production with two pure Italian parents).
We identify a dog as pure Italian if it registred into LOI or when the calculation shows 100% of Italian blood.
The calculation is made up of 8 generations (if data is available). A dog registred in the LOF and whose parents are unknown is considered 100% French.
Inbreeding, janvier 2011
We have completely rewritten the calculation of rates of inbreeding.
The inbreeding is computed as a percentage of chances for two alleles to be identical by descent. This percentage is called "inbreeding coefficient" (source Wikipedia). In other words, it is the probability that both chromosomes of a pair are identical and come from the same ancestor.
The
original version
used
the
method
of
Wright
[
Wright
Sewell
1992
] and
its
basic formula
F
i
= Σ(1 + F
a
) (½)
m+n+1
.
In
some
cases
the limitation
to
five
generations
was
insufficient and
the
algorithm
generates
anomalies
in other
cases
.
After
review
, we
did
not adopt the
method
Hardiman
,
easy
to use and
also
set
up
on
websites
known
,
but whose
results
we believe are
too
rough
.
The probability calculation is obviously simple in simple cases (inbreeding on one or two individuals), but becomes extremely complex when it relates to lines that intersect and cross over several generations. And computation time also increases...
We used a calculation of 8 generations.

January 2011: Bleus de Gascogne
The Club des Bleus de Gascogneinaugurates its database for the New Year! Each of the 6 races managed by the club has its database.
January 2011: Joomla plugin
Joomla plugin inserts a complete pedigree in a Joomla article. So, the pedigree is integrated with the same graphic as the site. More info...
2010: summary
Spain 2010: Spanish version of the website is online since July 2010. It completes the Italian, English and French versions. Spanish visits are about 15% - 20%.
More and more breeders insert links to pedigrees and virtual mating pages in their websites.
Bleu 2010: ppreparation ofthe release for the Bleus de Gascogne.
Setters and korthals: both databases continue to grow at a steady pace, always with new users.
Videos and photo galleries are still thriving!
Databases
Free and open databases
[
English Setter anglais
] [
Griffon Korthals
]
Databases managed by official clubs
[
Petit Bleu de Gascogne
] [
Grand Bleu de Gascogne
]
[
Basset Bleu de Gascogne
] [
Griffon Bleu de Gascogne
]
[
Saintongeois
] [
Ariégeois
]